The OIST Marine Science Station (OMSS) supplied fresh seawater from 20m depth offshore was established in 2016 as a marine science facility for coral reef research at the Okinawa Institute of Science and Technology Graduate University (OIST) located at the Seragaki fishing port in Onna Village, Okinawa. It has state of the art husbandry systems for rearing tropical fish, coral, and cephalopods, the OIST Heatwaves Simulator for the laboratory simulation of climate change scenarios, a molecular biology laboratory, diving and field expeditions workshop, meeting rooms, storage rooms, and shower room.
The station is used for research in the fields of Climate Change, Coral Reef ecology and physiology, weather and oceanographic observations, driven by not only the university's marine science units, but also collaborative research projects with other national and international institutions.
The station is managed by the Marine Science Section (MSS) of the Research Support Division (RSD) which provides various professional supports.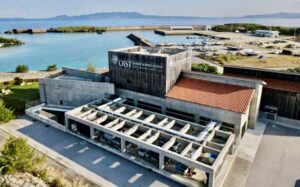 656-7 Seragakibaru, Onna-son,
Okinawa, 904-0404 Japan
https://groups.oist.jp/omsss