The Marine Biological Laboratory (MBL) is located on the southeastern coast of Mukaishima island, Onomichi City, the first island on the main island (Honshu) side of the highway "Shimanami Kaido" that connects Honshu and Shikoku island at the eastern tip of the Geiyo Islands in the Seto Inland Sea.
The MBL was founded in 1933 as a marine station of the former Hiroshima University of Literature and Science and it became attached to the Faculty of Science with the establishment of new Hiroshima University in 1949. It was reassigned to the Graduate School of Science in 2000 with the reorganization of the education and research systems from faculty base to graduate school base. In April 2019, the MBL is reorganized under the Graduate School of Integrated Sciences for Life.
About 2,000 researchers and students use the MBL in a year. There are two educational and research buildings, an outdoor aquarium facility, a dormitory accommodating up to 40 people. The MBL possesses three research vessels, including the largest one, "Abi II" (3.3 t, capacity 23 persons).
Since its establishment, a wide range of biological research focusing on marine organisms, such as taxonomy of molluscs, study of the vanadium accumulation mechanism in ascidians, evolutionary developmental studies of amphioxus. The current research in the MBL focuses on the development, evolution, and regeneration of acorn worms (Hemichordata) and acoel flatworms (Acoelomorpha).
In 2018, the MBL was certified as a Joint Usage/Education Center for "Shimanami Kaido Broad Area International Marine Biological Education Center to Study Biodiversity and Evolution and Development" by the Ministry of Education, Culture, Sports, Science and Technology (MEXT). A wide range of educational and research activities are underway, such as open marine courses for undergraduate and graduate students from other universities and international summer schools etc.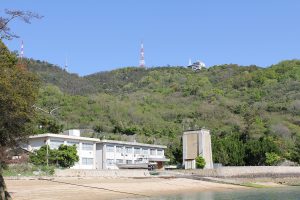 Address: 2445 Mukaishima-cho, Onomichi, Hiroshima 722-0073 Japan
E-mail:rinkai@hiroshima-u.ac.jp
HP:https://www.hiroshima-u.ac.jp/en/rinkai