1st JAMBIO International Symposium
The 1st JAMBIO International Symposium was held on February 25-26, 2013, at University of Tsukuba, Tokyo Campus. The symposium, with a main topic of 'Cell and Evolution', had 74 participants from worldwide.
5 foreign speakers invited from Italy, France, USA, Germany, and Norway, and 12 speakers from Japan presented data from their recent research on marine organisms, and active discussion were held among the participating researchers.  ▶Poster (PDF)  ▶Program (PDF)






In the two sessions under 'Cell', the importance of marine biological research for the understanding of fundamental structures and phenomena such as cilia, fertilization, and cell division was emphasized. In the three sessions under 'Evolution', research on a wide variety of animals were presented, from well-known animals such as fish and corals, to less known species such as Xenoturbella and acorn worms.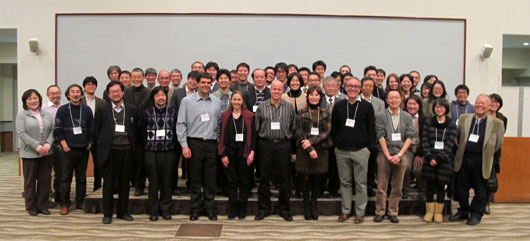 A banquet was held on the evening of the 25th at the Bunkyo Civic Center Sky Hall, and participants engaged in lively discussions while enjoying the night view of Tokyo from the 26th floor. After the symposium, some participants, including those from abroad, visited Shimoda Marine Research Center, University of Tsukuba, and Misaki Marine Biological Station, University of Tokyo. They had a tour of the facilities, and possibilities of future research collaborations were discussed. The 2nd JAMBIO International Symposium is planned in 2015, with the main topic 'Ecology and Environment'.